Ruth James
Ruth James, mum of three, has always been fascinated with understanding people and behaviour. Her particular interest in parenting teenagers started when her daughters reached adolescence and she didn't have a clue about how to get her girls through the teenager years. With a background in senior leadership roles within local government, it became apparent to Ruth that her leadership and people-management skills were an asset to her as a parent of teenagers. Intrigued to learn more about how best to support her family, Ruth enrolled on a parenting course, but found that it didn't answer her key questions about how to pro-actively build healthy self-esteem and resilience into her children.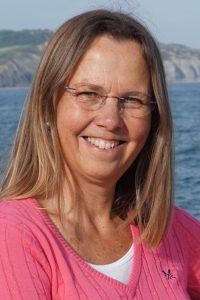 After much research into the neuroscience of adolescence and the social psychology of parenting teenagers, Ruth decided to develop an evidence-based parenting course that would help parents build of resilient adolescents, which she called 'Building Resilient Teenagers'. Ruth ran this course primarily as a hobby for 7 years, alongside her full-time career, but when she suddenly became redundant, she found herself quickly needing to re-think her future. She took the opportunity to reflect on what she most wanted from life and began to flesh out her ideas to expand her parenting courses through 'parenting cafés'.
"Around this time, I met someone who directed me to the AWE Making a Difference programme. It was the perfect timing and it has really helped me navigate all the practical steps I need to take in order to expand my idea. I want to focus more on helping parents of pre-teens because parents with children at this age are probably easier to engage and want to spend time with their parent, which creates a great opportunity for the parent if they can build a strong foundation at this stage, it will definitely help them navigate adolescence".
Since completing the AWE programme, Ruth has successfully run several 'Parenting Café' workshops on key subjects, such as supporting teens with anxiety as well as managing emotions. She is now in the process of developing a "Confident Teenagers, Connected Families" course which will focus on helping parents to understand themselves and their teenagers as well as give them simple, practical tools and insights to help them in day-to-day family life. Ruth explains that "Before enrolling on the AWE programme, I had lots of ideas, but I needed the opportunity to think things through in a more strategic way, and being part of the group really helped me consider things that hadn't occurred to me". Ruth goes on to explain, "I've really enjoyed the AWE programme; the structure and routine was so helpful, it was such a lovely group of women. The content was great too, I enjoyed Max's facilitation style, and I personally got a lot of value from hearing real-life stories from other entrepreneurs".
Ruth explains that during the current situation caused by coronavirus, although she is unable to host face-to-face parenting workshops, she is taking the opportunity to work on her brand, further define her product and also embark on developing her digital parenting course. Her target market is working parents, because, as she discovered as a parent, there is little support available for working parents. Ruth's vision is to encourage parents to feel better about themselves, and as a qualified coach, Ruth also plans to offer one-to-one parenting sessions, alongside the face-to-face group workshops in the future.