Decorating is a woman's business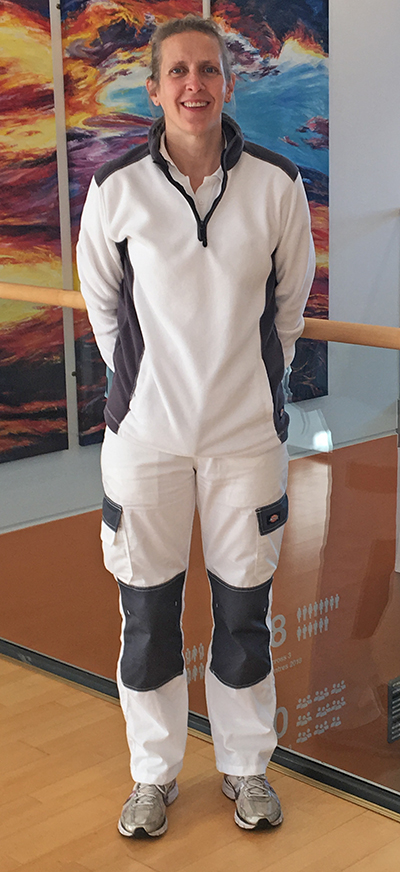 The most important thing I learnt was to put money into my business. I soon realised that a little investment goes a long way
Ruth Daddow
She Decorates
We spoke with Ruth Daddow, the founder of She Decorates to find out what the support provided through the AWE project has meant to her and her business. She Decorates is a painting and decorating business based in Redruth, Cornwall, focusing on residential properties and small businesses.
Ruth has always enjoyed decorating. However, being a primary school teacher for 20 years and looking after her children, that passion had always been directed to decorating her own home. With the demands of teaching, she says that her work-life balance was terrible and she struggled to find the time to see her family.
So, this year when Ruth's teaching contract came to an end, her family and friends encouraged her do something different and to start a decorating business. She set up She Decorates and she has not looked back since!
Starting out, she knew what she wanted to do, but was not sure how to go about setting up a business. She experienced the same worries as many people in the same position – a concern about failure – how would she find and retain customers, and make enough money to be successful?
This is where Outset CIC came in, one of the UK Delivery partners of AWE. Having been directed to Outset via her local Growth Hub, she gained the support she needed to guide her through the process of setting up her business, and gained skills needed to develop her venture. She also found great value in being connected with people who were in the same position as she was.
Outset provided her with advice on how to gain customers, from using her family and friends as an immediate network for generating leads, to getting business cards printed and distributed to advertise her new company. The most important thing she learnt was to put money into her business, and she soon realised that a little investment went a long way. For example professional business cards and clothing for the job started to develop an compelling brand for her company. Ruth says that she believes that anyone thinking about starting a business should "Research if your business is viable and then just go for it!"
Ruth says that the thing she most regrets is not starting up her business 2 years ago. She also says that the best and the worst things about starting her own business is being in control of her own time! However, now that her business is well and truly off the ground, she aims to get some repeat customers, buy a van and get it sign written (to provide moving advertising) and to earn enough to be able to support herself. Longer term she hopes to take on an apprentice to expand her business further.